Here are 5 negotiation lessons I learned this year. I love sharing all the negotiation knowledge and research I have with this community. Here are some expert tips to add to your negotiation repertoire. 
Negotiation Lessons I Learned This Year
1. There are SO many items to negotiate
One of the negotiation lessons I learned this year and continue to learn is that there are SO many items to negotiate. So many. It continues to surprise me just how MUCH you can negotiate. 
Some items are the traditional ones you know you can negotiate. Some items are BRAND NEW. Things you can negotiate are being added by the month! Just think, we live in a completely new age (compared to just 2 years ago), so the items you can negotiate have transformed too. 
You can negotiate:
Paid family leave – Let it be noted that I resent the fact that we have to negotiate for paid family leave. That should be a mandated, paid, federal policy. But.. here we are. It is not federal policy as of this publication date.
Remote work – This is a given now! Maybe you want a hybrid approach. All these options are much more negotiable than they once were.
Working fewer days per week – If you can't get where you want financially, maybe working fewer days could be another option. This is also increasing in popularity. Some countries (that I want to live in) have already adopted this as a national policy. 
Health insurance wait periods – A follower negotiated this. In this day of healthcare being a necessity (wait.. It's always been one…), negotiate wait periods. Negotiate it starting ASAP, on your first day, or the first of the month. Health is priority (why the U.S. doesn't understand this with universal healthcare is beyond me so… again, in the meantime.. I guess we negotiate our way there?).
Get creative. If you can imagine it, you can probably negotiate it. 
Are you signed up to get the 35 Items You Can Negotiate to your Inbox? Do that so you have a long list of items you can negotiate!
2. Let your supervisor know months in advance that you want a raise
This is a negotiation given. This is an important negotiation lesson I was reminded of this year. This is a pillar in negotiation lessons: You need to let your supervisor know in advance that you want a raise.
This is a go-to. Let this serve as your very important reminder. Don't just bring it up at your annual review. Schedule a meeting in advance (months before) to let them know you want an increase and why. That way, they can prepare and advocate for you to their boss too, as well as adjust the budget accordingly.
When your annual review comes around, sometimes it's too late because the budget has been decided. Do it in advance. 
ADVANCED TIPS:
These are advanced tips because it takes a little bit more thought to execute. You can definitely do it if you put your mind to it.
*If you're just starting out, practice the other tips first (like having 3 reasons why you deserve your asking price, having your 3 numbers ready, implementing the basics, etc).
3. Use a specific number when negotiating
Avoid numbers that end in 5 and 0
Here is one of the more more advanced negotiation lessons I learned this year: Avoid numbers that end in 5 and 0.
Experts point out that if you use specific numbers (like $83,000 instead of $80,000), your ask seems more legitimate and researched. Try it out!
Using a more specific number (other than one that ends in a 0 or a 5) looks like you have rationale, reason and research for why you chose that number in a negotiation (even if you don't). Asking for $100,000, for example, is too round to be researched well. $112,000 – that's better. 
Examples: 
You want $60,000? Make it $62,000.
You want $45,000? Make it $47,000. 
You want $260,000? Make it $263,000. 
The more specific (and less "rounded") makes it seem (more) official. 
"A round number, on the other hand, suggests that a person is just ballparking it—offering an approximate valuation based on vague knowledge" (Forbes, 2016). 
"Round initial offers were less likely to secure a deal than precise offers… It's important to understand this, because as research has previously shown, the opportunity to speak first in a negotiation is valuable — it anchors the conversation" (Keloharju, 2016, HBR).
"The main takeaway is: do not launch a negotiation with a round offer" (Keloharju, 2016, HBR).
4. Avoid "why" questions
(focus on "what" and "how" questions)
Another one of the negotiation lessons I learned was to avoid "why" questions. In turn, focus on "what" and "how" questions.
This is a tip from the famous FBI Negotiator, Chris Voss, and some other experts too. "WHY" feels accusatory. Focus on WHAT and HOW questions: "HOW can we make this work?" "WHAT needs to be done in order to reach this number?"
Stay away from WHY questions as that sounds & feels accusatory. (Think of someone asking you.. "Why did you do that?") According to expert hostage negotiator Chris Voss, "WHY triggers defensiveness universally." HOW and WHAT questions feel less interrogating.
HOW and WHAT questions allow for collaboration.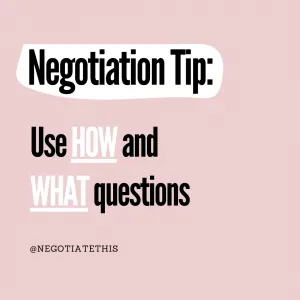 "Examples:
How can we make this work?
How should we proceed?
What are the next steps?
How would you like to proceed?
How can we overcome these challenges to get there?" (The Art of Negotiation, Chris Voss, 2020).  
SUPER ADVANCED TIP: 
5. Get the other party to say "no"
This negotiation lesson sounds counterintuitive, doesn't it? We want the other party to say YES to what we are proposing in a negotiation. But this is another one of those psychological hacks. 
Negotiation expert and famous hostage negotiator, Chris Voss, calls this "The Value of No" – and it is indeed valuable. The goal is to let the other party to say "no" in a negotiation.
If the other party says "NO", they feel more in control. Example: "Is it too much to ask for a moment of your time?" – See how you made it easy for them to say no? No makes them feel in control so that you can get a YES to what you're asking.
*Make it EASY for them to say no
Examples:
Do you think I am undeserving of this raise? (Only ask this if you think they will say NO!)
Is it unreasonable of me to ask for a moment of your time? (Who would say yes to that?)
Is it unreasonable for me to ask for an increase with the contribution I've demonstrated over the past X months with Y project?
Is it outside of the company's interests to continue with Z project? (Z project would be one that you are leading/doing well/ is a pivotal piece for the department, company, etc.)
Get creative. You know your situation and you know how to frame a question into a "no" best.
A "no" can help get to a "yes"
Cheers to a year of more
I love learning more about negotiation and am so happy to share all the negotiation lessons I learned this year. I'll keep sharing all the hacks, tips, tricks, and best practices I learn as I go.
Stay tuned for more expert tips & negotiation lessons. 
Cheers🥂to learning lessons and receiving our worth this year!
---
Sources
*Article: "Don't Use Round Numbers in a Negotiation" @HBR (2016)
Author: Matti Keloharju
*Article: "When Negotiating A Price, Never Bid With A Round Number" @forbes (2016)
Author: HBS Working Knowledge Contributor
*Masterclass: Chris Voss's Master Class on The Art of Negotiation. @thefbinegotiator
---
Want More on Negotiation?
If you want weekly motivation and negotiation tips, sign up for blog posts and for daily inspiration follow @negotiatethis on Instagram.
---
Disclaimer: While the contents of this post and blog come from research and personal experience, each experience, situation and/or person has their own unique circumstances. This is not negotiation, financial or any other form of legitimate or official advice from an expert. Each individual should do their own independent, comprehensive research. Negotiation, career and all other decisions are the sole responsibility of each individual or party. Details found on the blog and in individual posts are opinions and should be treated as such for entertainment purposes only. Read further disclaimer information on the Disclaimer page.