On this Equal Pay Day: action steps & what you need to know to kick the year off raising awareness about how much we underpay women. 
Happy women's equal pay day… I guess…? (Friendly reminder that the wage gap is greater for most women of color).
In this article:
"Equal Pay Days" 2022:
*in quotes because it's so nuanced
– within each subgroup are variables and nuances that further impact income disaprity
March 15: Women's ("general") Equal Pay Day
May 3: AAPI Equal Pay Day
June 15: LBTQIA+ Equal Pay Awareness Day
September 21: Black Women's Equal Pay Day
November 30: Native American Women's Equal Pay Day
December 8: Latina Equal Pay Day
*Absent from list is mother's equal pay day 2022 – waiting on release date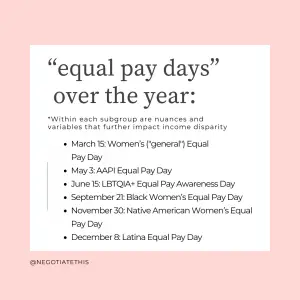 Equal Pay Day & What You Need to Know
It's true, the data IS nuanced. And it still leads us here whichever way you want to cut it: to a gaping pay gap. 
The gender wage gap directly and undeniably contributes to the racial wealth gap. 
"Any way you cut it, the wage gap persists. "There's a wage gap in 94% of occupations, regardless of whether a woman is working in a low-paid job or a high-paid job… There seems to be little else explaining this persistent wage gap except for racism and sexism" (Tucker, 2022). 
In addition to gender & race, disability status and other factors that have historically (and typically) held people back should also be tracked and prioritized regarding equal pay. 
Equal Pay Day Realities
There's more to it than just the numbers, too. From women leaving the workforce to childcare needs increasing in the pandemic, a lot has changed. The numbers don't tell the full story (they never do).
"These numbers are not telling the whole story. In February 2022, 1.1 million fewer women were in the labor force than at the start of the pandemic. The latest figure accounts only for the women who remained in the workforce full time, and fails to reflect the financial impact for the millions of women who lost their jobs or who were pushed out of the workforce due to lack of childcare or other factors….
Regardless of how many hours or weeks they worked—women were typically paid just 73 cents for every dollar paid to men—and the gap widens for many women of color" (Corbett, 2022). 
The gap is even wider than stated. Looking at the nuances often demonstrates a greater divide within pay. So, what do we do?
Equal Pay Day Action Steps
What we can do to get closer to equal pay:
Paid family leave
Pay audits
Negotiation audits
Salary transparency
Affordable childcare
Minimum wage increase
Federally required staffing & pay disclosure
Improved maternal (& overall) healthcare
Changes need to be made. These are non-negotiables. These aren't "nice to haves," these are necessities. If we want a chance at closing the wage gap, these changes need to take place.
This isn't rocket science. And even if it was… we could figure it out. 
Add to the list: Better healthcare – one that (better) supports mothers, supports abortion services and other family planning areas, in addition to an increased allocation for more resources and options for the aging population. Women historically and typically take care of aging family members.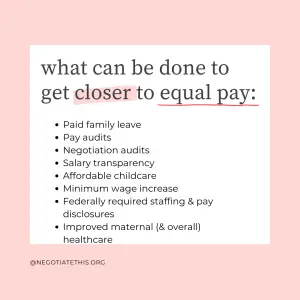 We need better workplace policies on top of the basics (like childcare and healthcare).

"Federal policies that require private companies to disclose their staffing data could also help policymakers keep employers accountable for deep pay disparities that exist at their workplace, Michelle Holder, president and chief executive of the Washington Center for Equitable Growth, told The Lily in 2021" (Branigin, 2022). 
Women take up the majority of minimum wage jobs, so an increase in minimum wage directly supports women.
 Equal Pay Day Action Steps (Individual Level)
You can take action right where you are. You can create change.
Ask about it at your workplace
Talk to colleagues and managers about its importance
Bring fair pay practices up at meetings
Use company/region/industry specific data and research to support your discussion
If it's not a norm at your workplace, help create action steps to make it one
Vote for public officials who prioritize equal & transparent pay
Contact your legislators about enacting fair pay practices
All those little actions add up. Don't doubt that they do. 
Speak up for what's needed. Because there's no doubt that others need it, too. Use your voice, use your position, use your contacts & your network, use whatever means you have.
Equal Pay Is Urgent
Equal pay is an URGENT issue. Change is needed. Change is now. Work to close the pay gaps that greatly impact the lifetime earnings of those who are paid less. 
Equal pay day demonstrates how far into the year a woman must work in order to reach the same pay as a white, non-hispanic male. 1 day is too many and it begs repeating that *the gender wage gap is greater for most women of color

Goal: *We should not be celebrating equal pay day. We should have these gaps eliminated.
---
Sources
*Article: Equal Pay Day falls earlier this year. Here's what to know. @thewashingtonpost (2022)
Author: Anne Branigin
*Article: Equal Pay Day Calendar
By: AAUW.org
Link: https://www.aauw.org/resources/article/equal-pay-day-calendar/ 
*Article: "What equal pay day 2022 data is and is not telling us" (2022) @forbes
Author: Holly Corbett
*Article: Equal Pay Day: March 15, 2022
Author: Census.gov
---
Want More on Negotiation?
If you want weekly motivation and negotiation tips, sign up for blog posts and for daily inspiration follow @negotiatethis on Instagram. 
---
Disclaimer: While the contents of this post and blog come from research and personal experience, each experience, situation and/or person has their own unique circumstances. This is not negotiation, financial or any other form of legitimate or official advice from an expert. Each individual should do their own independent, comprehensive research. Negotiation, career and all other decisions are the sole responsibility of each individual or party. Details found on the blog and in individual posts are opinions and should be treated as such for entertainment purposes only. Read further disclaimer information on the Disclaimer page.